Rentals - PH
R12359
2-Bedrooms 88 sq.m.
Chiang Mai, Doi Saket
79 M. 6, T. Pa Lan, A. Doi Saket, Chiang Mai, Thailand
Land size 100 Wah ( 1 Wah = 4 sq.m. )



Rental price

9 400
THB/week
25 000
THB/month
20 000
THB/month

6 months

15 000
THB/month

year

Updated 3-10-2016



Floor number - 1
Bedrooms - 2
Bathrooms - 2

Distance to the beach - 10 m.

Seaview: yes

Swimming pool: communal

Security


A/C number - 1

Furnishing fully furnished

Kitchen

Microwave

Cooking hob

Fridge

Washing machine

Safe

Internet WI-FI


Location: 10 miles or 15 km off city of Chiang Mai, on countryside, in a
quiet, secure 7,000 sqm property with natural park-like environment and
a few houses.

Private: Interior living area of 88 sqm, consisting of a bungalow with
detached pavilion. Bungalow with 1 bedroom (queen-size bed, air-
condition and ceiling fan, room safe, built-in wardrobe), living and dining
room (sofa and sitting area, ceiling fan), kitchen (fully equipped), WC
with Western type toilet and hand-wash basin, bathroom with Thai type
toilet, hand-wash basin, and hot shower, laundry cabinet with washing
machine. Pavilion, a wooden stilt-house, comprising bedroom (queen-
size bed, ceiling fan, hand-wash basin, urinal) and living room (sitting
area, pantry with refrigerator, ceiling fan). Garden with sitting area under
the pavilion, and terraces, nice views over the big pond.

Shared: Most of the 7,000 sqm large community garden can be
explored and used for recreation. Large natural pond, 7 meters deep,
can be used for swimming and boating.

Free: WiFi Internet, accessible interior of bungalow and pavilion, as well
as throughout the property. Tap water. Parking (1 car or 1 motorbike)
within the property. Using the boat on the big pond. Using barbecue
equipment in the garden.

At charge: This home is offered for self-catering, but food can be
offered occasionally, e.g. breakfast if ordered in advance.
At charge (long-term rent only): Electricity. All other utility charges are
included in the rental rate.

Public transportation: Available from street adjacent to the property.
Some guests might consider public transportation inconvenient and
would prefer private means of transport: Car, motorbike, scooter,
bicycle, can be rented.

This home is best suitable for a single person, or a couple, or a small
family, who likes nature and an inspiring tranquil environment.

Monthly rent 15,000 Baht (for 1-2 persons), minimum 1 year rental
contract,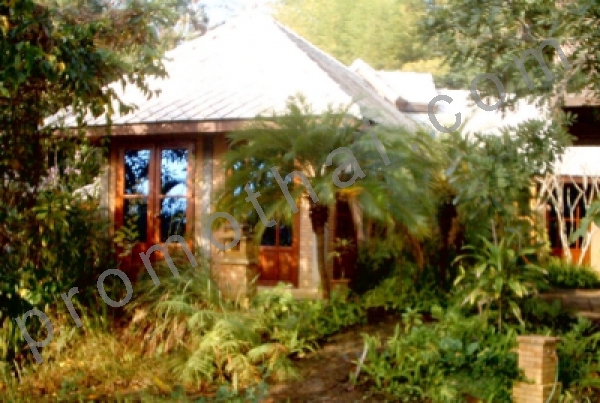 Chiang Mai
Owner: 0896339517 Khun Sam — baansammi@gmx.net

Possible language for contacting: - ไทย - English - Deutsch



R12359

Your message
Name
E-mail
Phone


Warning - the PROMOTHAI website is not responsible for the accuracy of the published FREE advertisements.

Direct communication with the owners, not through an agencies, is a subject of your personal responsibility for deposits, payments and other matters.